The Aldeburgh
Connection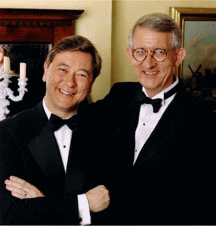 The seaside town of Aldeburgh on the east coast of England was the home of the English composer Benjamin Britten. In 1948, Britten and tenor Peter Pears founded the Aldeburgh Festival. The Festival has become a highly respected annual meeting ground for internationally renowned musicians.
Also at Aldeburgh is the Britten-Pears School for Advanced Musical Studies. The School provides professional musicians with an opportunity to study and take master classes from some of the world's greatest singers and instrumentalists: Elisabeth Schwarzkopf, Hans Hotter, Gerard Souzay, Galina Vishnevskaya, Murray Perahia and Mstislav Rostropovich have all had a long-standing association with the School. Many well-known Canadian opera and concert singers have studied at Aldeburgh.
The traditions and the high standards of performance associated with Aldeburgh are carried over into its Canadian namesake group, The Aldeburgh Connection. The Aldeburgh Connection was founded by two alumni of Aldeburgh, Stephen Ralls and Bruce Ubukata, who for many summers were staff members at the Britten-Pears School. Back home in Toronto, they developed a vocal and piano concert series, known as "The Sunday Series", which features a mix of well-known and well-established Canadian singers and talented up-and-comers. Since the inaugural concert in 1982, they have presented over 80 different theme programs.
Photo: Artistic Directors Bruce Ubukata (left) and Stephen Ralls