Anya
Alexeyev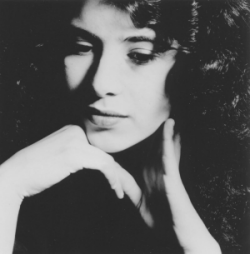 Anya Alexeyev, an accomplished concert pianist, has performed extensively across Europe, in countries such as Germany, France, Austria, Belgium, Spain, Switzerland, and Sweden, as well as in the USA, Canada, Argentina, Malaysia and South Africa. She is an active participant in many chamber music festivals in Europe and in USA, regularly performs live for BBC radio, and has been broadcast by a number of prominent radio stations across the world. In 1995, she premiered Sir Paul McCartney's first solo piano piece, A Leaf, at a charity concert organized to aid The Royal College Of Music. The concert was held in the presence of the Prince of Wales at St. James's Palace, London, and the piece was later released through EMI Classics.

Anya received her education at the Moscow Tchaikovsky Conservatory, where she studied with Dmitri Bashkirov. She then went on to complete a Performer's Diploma at the Royal College of Music in London, England in 1993 and earned her an Associate Certificate from the same institution a year later. A winner of many awards, Alexeyev has spent the past 12 years performing internationally, playing solo recitals, concertos, chamber music, and contemporary music. She has performed with some of the world's most prestigious orchestras such as the BBC Philharmonic, Moscow State Symphony, Royal Philharmonic, Vienna Chamber, The Philharmonia, Royal Scottish National, Deutschland Radio, City of Birmingham Symphony, Bournemouth Symphony and Sinfonietta, St. Pertersburg Philharmonic, London Mozart Players, BBC National Orchetra of Wales, English Chamber, Malaysian Philharmonic, Belgian National Symphony, and Quebec Symphony, collaborating with such conductors as Temirkanov, Simonov, Oramo, Bakels, Judd.

Anya Alexeyev is currently a member of faculty at the Wilfrid Laurier University in Canada, and her future plans include performances with the Brodsky Quartet in UK, concertos with Kitchener-Waterloo Symphony Orchestra, a tour of Mexico, and the organization of and participation in the Alfred Schnittke series in Ontario, Canada.