Maria
Antonakos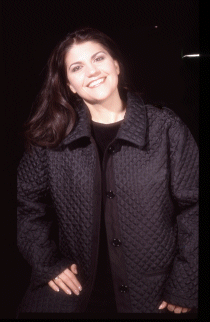 For more information, visit Maria's web site.

Mysterious … haunting … enchanting. Such is the essence of the ruins of Mystras. Such is the sound of Maria Antonakos.

For her June 2004 release Mystras: Siren Songs of the Mediterranean, singer/songwriter Maria Antonakos draws inspiration from a journey back to Greece to explore her heritage. The new album is named for Mystras, an ancient Greek fort located just outside of Sparta and near the birthplace of Maria's father
"Mystras is a unique and timeless location, produced by the overlaying of Byzantine, Turk, and Venetian cultures," says Ms. Antonakos. "Similarly, music can be a great example of the power of creation born from different cultures, sounds, rhythms, and languages."

Mystras reflects "the power of creation" described by Antonakos, featuring original and traditional songs in English, Spanish, Greek, and Italian, Mystras takes its listener on an intimate musical journey rich with sweeping melodies and sublimely dramatic lyrics that evoke the haunting power of the human voice. On Mystras, Maria is joined by some of Canada's most talented instrumentalists, including Rob Allen, Ben Grossman, George Koller and Rob Piltch. Mystras was produced by Philip Stanger.

The daughter of a Greek immigrant father and a Scots-Irish/French-Canadian mother, Maria grew up in Ontario where her family had businesses and lived in 10 different communities.

She pursued a degree in vocal performance at the University of Toronto's Faculty of Music. Her postgraduate studies took her to Florence, Zurich, Salzburg, as well as to New York University and the Juilliard School. Her classical training in the Western tradition gave her the confidence to embark on the next step of her musical journey: composition. Blending her classical training with popular culture and her interest in other countries-plus her love of theatre and storytelling-she developed a unique sound that entices and enchants.

Her penchant for bringing together different worlds has led to collaborations with artists such as Irish-Canadian tenor John McDermott whose appreciation for her early work led to Sweet Sister Mary, a duet with Maria released on both Mr. McDermott's Love is a Voyage and Maria's debut album Four Corners, No Walls.

With an "attitude of gratitude," Maria places great importance on giving back to the community. Evident in both her professional and volunteer activities, she has done much to promote the arts through her work with such organizations as Toronto Symphony Orchestra, Orchestras Canada and Roy Thomson Hall. Maria's ongoing commitment to improving the quality of life for others in need-particularly women and children-has led her to her current position serving as Senior Director of Development, Marketing and Communications for the Canadian Women's Foundation, Canada's first and only national public foundation to help stop violence against women and build economic independence for women and their children.
Maria is a proud alumnae of JeansMarines with whom she trained and ran two marathons. Completing a marathon was a tremendous personal victory, inspired by the power of setting goals and celebrating accomplishments."