Donna Bennett and
Brian Finley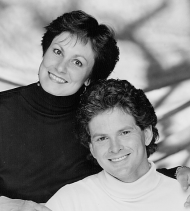 Captivating audiences across Canada as well as in the United States and in Europe, the husband-and-wife soprano-piano team of Donna Bennett and Brian Finley show what can happen when two of Canada's finest young talents decide to unite. The result is an extraordinary musical marriage of magnificent appeal. Always revealing an engaging wit, this couple charms audiences with a vast repertoire of opera, art song, and Broadway classics as well as works for solo piano and original music.
Canadian soprano Donna Bennett is known to audiences internationally for her sparkling performances of opera, oratorio and in recital. Operatic performances have taken her to the Edinburgh Fringe Festival, the London International Opera Festival, the Henze Festival in Montepulciano, Italy, as well as to Berlin, Neuberg, Toronto and New York. She made her Canadian Opera Company debut in Britten's Albert Herring returning the following season to sing over thirty performances as Gretel in Humperdinck's Hansel and Gretel for the COC's Touring Company. She performed the role of Dede in the British premiere of Bernstein's A Quiet Place and has created several roles including the Mermaid in Paul Max Edlin's The Fisherman in London as well as the role of Ariana in the world premiere of R. Murray Shafer's The Enchanted Forest. She has sung with Opera Atelier, Tafelmusik, the Toronto Symphonietta, Orchestra London and the Victoria Symphony.
Brian Finley continues to pursue a multi-faceted artistic career that includes his duties as Artistic and Managing Director of the Westben Arts Festival Theatre in Campbellford. He is also Artistic Director for the Brian Finley & Friends Concert Series in Cobourg and Music Director at St. John's United Church in Campbellford. Increasingly known not only as a composer and pianist, he is also an impresario and a promoter of young musical talent. As a pianist, he has appeared in over ten international piano competitions including the 8th International Tchaikovsky Piano Competition in Moscow, and has performed with orchestras such as the Dallas Symphony and Calgary Philharmonic, and at venues ranging from the Olympic Music Festival in Washington, to Wigmore Hall in London, England. He continues to tour Canada extensively with Donna Bennett.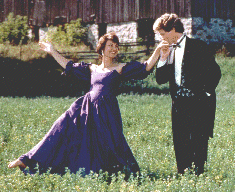 Donna Bennett and Brian Finley at "The Barn"
Concerts at the Barn
The summer of 2000 marked the debut of an exciting new summer festival in a wonderful rural setting. "Concerts at the Barn" run throughout July, just outside Campbellford, Ontario.
Westben Arts Festival Theatre, a not-for-profit organization, was created by Brian Finley and Donna Bennett to bring world-class artists to the Campbellford area in southern Ontario (about two hours east of Toronto) to perform on a stage with a backdrop that only Northumberland County can provide. Brian Finley is the Artistic and Managing Director of the theatre.

For information about the concerts: www.westben.on.ca