David
Greenberg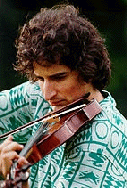 David Greenberg has been praised as both "one of the most impassioned folk-fiddlers you'll ever hear" (James Manishen, Winnipeg Free Press) and "the best baroque violin soloist in Canada, if not North America" (Stephen Pedersen, Halifax Mail-Star). This dual musical identity is not a newly acquired habit. During his schooling in classical violin playing (beginning at age 4), David also picked up traditional fiddling by ear from recordings.
Originally from Maryland, David studied baroque violin at Indiana University's Early Music Institute, and moved to Canada in 1988 to join the Toronto-based baroque orchestra Tafelmusik. Since then, David has performed with this internationally acclaimed baroque ensemble in orchestral, chamber, and solo roles in North America, Europe, and the Far East, and on more than forty recordings. David also is sought out as a performer on the vielle (medieval fiddle). He won first prize at the Erwin Bodky International Early Music Competition in 1988 with the Medieval Quintet, and he recorded vielle soundtracks for Atom Egoyan's film "The Sweet Hereafter."
Over the past decade, David has gained the reputation in Cape Breton music circles as being one of the few people from outside the Nova Scotia island to have achieved a fluent command of the Cape Breton idiom. With his wife, Kate Dunlay, he published a book called Traditional Celtic Violin Music of Cape Breton, the DunGreen Collection (1996). He also recorded the solo celtic-violin music for "Pit Pony," a movie about turn-of-the-century Cape Breton.
In 1994, David joined together two of his musical interests by founding Puirt a Baroque (pronounced poorsht-a-ba-roke), a group that connects traditional Cape Breton music with its roots in the Baroque era.
Doug MacPhee
New Waterford native Doug MacPhee comes from a family steeped in the traditional music of Cape Breton Island. Doug has performed with all the great fiddlers of Cape Breton over the years. Although he prides himself on his ability as an accompanist, Doug is also known as Cape Breton's foremost piano soloist. Doug has toured extensively throughout Canada, the United States, Scotland, and Europe. In addition to making regular appearances at the big outdoor concerts in Cape Breton, he has performed and taught at numerous North American folk festivals.