Susan
Hoeppner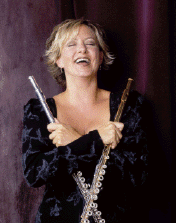 Appreciated for her "complete fluency in all registers, well-controlled technique and beautiful tone" (Toronto Star), Canadian flutist Susan Hoeppner is in great demand as an international solo recitalist and chamber musician. Appearances include prestigious venues in Canada, Japan, France, Argentina, Portugal, England, Hungary, Yugoslavia and the United States. The late Julius Baker said "Miss Hoeppner is one of the finest young flutists with whom I have worked." She is also heralded by James Galway as "one of the best talents of her generation."
Susan Hoeppner is a musician of international renown; she has performed as a guest soloist with orchestras around the world, including the New York Chamber Orchestra, Takefu International Festival Orchestra, Lisbon Radio Orchestra, Orquesta de Camera in Buenos Aires, and the Sacramento Symphony. In Canada, she has performed with the Calgary Philharmonic, Toronto Symphony Orchestra, Orchestre Métropolitain de Montréal, Kitchener-Waterloo Symphony, Canadian Chamber Ensemble, Regina Symphony Orchestra, and the Manitoba Chamber Orchestra.
Ms. Hoeppner is in demand as a recording artist as well. Her most recent releases on the Marquis Classics label include Fantaisie Française and Serenade. Her upcoming recording of chamber music by Jolivet, Debussy, Roussel, and Ravel will be released on Marquis Classics in the fall of 2004. Her colleagues on this recording are Joaquin Valdepeñas, Judy Loman, Erika Raum, Annalee Patipatanakoon, Steven Dann, Amanda Forsyth.
Other artists Ms. Hoeppner has collaborated with in recording and recital include Anton Kuerti, Marc-André Hamelin, Robert Kortgaard, Lydia Wong, Beverley Johnston, Renée Fleming, Measha Brueggergosman, Ben Heppner, Richard Margison, and James Galway.
Early in her career Ms. Hoeppner was the Grand Prize Winner of the Canadian Music Competition, the first woodwind player ever to receive this honour in the competition's history. She went on to win the CBC Young Performer's Competition, and first prize in the Olga Koussevitsky Competition for Woodwinds held at the Lincoln Center in New York. At 20 years of age she gave her New York debut at Town Hall, and went on to perform at the world-renowned Teatro Colón in Buenos Aires, both to critical acclaim.
A graduate of The Juilliard School in New York, where she studied with Julius Baker, Ms. Hoeppner is now a member of the University of Toronto's Faculty of Music where she is an active performer. Every summer, Ms. Hoeppner teaches at Domaine Forget in Charlevoix, Quebec as well as The Julius Baker Masterclass in New York. As a Canadian Yamaha Artist, she performs and travels extensively throughout Canada giving masterclasses in universities and high schools. Ms. Hoeppner will be returning to Japan for a tour in the fall of 2004 in conjunction with the Canadian Embassy in Tokyo, Yamaha, and JVC Victor.
Susan Hoeppner performs on an 18K gold Yamaha Flute (994H). She resides in Toronto.
Visit Sue's web site for more information.