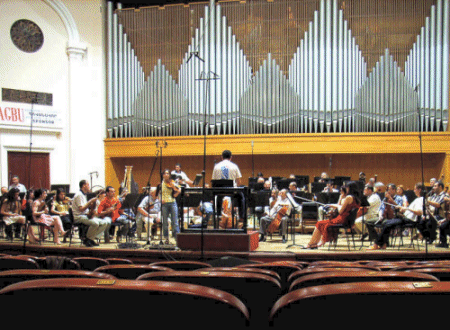 Catherine Manoukian recording with the Armenian Philharmonic
"One day in 1998, I got an offer to play Khatchaturian's violin concerto (someone probably thought it was cute that "Manoukian" rhymes with "Khatchaturian"). But then, for reasons that escape me, the requests for it kept coming, one after another. By 2003 (his centenary), it became the concerto I'd performed most often. Although it was by no means love at first sight, the piece grew on me - at some point between the first performance and 2000, I decided that I really liked it. I think what happened is that I made a connection between the piece and my teenage readings of Soviet literature and history. So I started to look for other pieces representative of the era. That's when I fell in love with Shostakovich's first violin concerto.
I'd been aware of the Shostakovich since childhood, but, having been more interested in concertos like Brahms, Beethoven, or Bartok No. 2, I'd never played it. In 2000, with a better understanding of its context, I became completely obsessed. I devoured every recording made of it. I spent all my spare time working on it. I thought about it even when practicing other things or when writing essays for school. In fact, a lot of my academic historical work for a while was on Soviet history, all in an effort to gain a deeper understanding of the Shostakovich. I begged and nagged for opportunities to perform it. When an orchestra called and asked for repertoire suggestions, I blurted out "Shostakovich A minor!" before they could finish their question. I became very tiresome indeed. I think I actually cried for joy the first time I got to perform it.
When my record companies and I originally planned to do an orchestral recording, our repertoire considerations were Dvorak, Brahms, or Elgar...mostly late Romantic stuff. The choice of repertoire for this present CD actually followed the choice of an orchestra, not vice versa as would be expected. In late 2003, I had my first collaboration with Maestro Eduard Topchjan and the Armenian Philharmonic in Yerevan. It happened to be one of the instances when I'd pestered for Shostakovich and gotten my way. I came home having decided that I'd found my orchestra and conductor. I was absolutely insistent that it had to be with this group and that it had to be Shostakovich and Khatchaturian (by now, the obsession was all-consuming). Lucky for me, it promised to be a neat package. The Armenian Philharmonic is an ex-Soviet orchestra. Each member has pretty much memorized these pieces. 2006 is Shostakovich's centenary. And Eduard was as excited as I was about the repertoire.
The recording process for this CD was unusual, very different from those of my previous ones. For one thing, as a result of several concert commitments that I had with the Armenian Philharmonic, I was in Yerevan for about a month leading up to the recording sessions. I got to work very closely with the orchestra and conductor. We learned each others' quirks and eccentricities. Eduard and I had opportunities for numerous discussions about the recording pieces and about music in general. We enthusiastically agreed on many things and had heated discussions when we disagreed. My life for that period leading up to the recording was the most completely music-saturated that it's ever been - all 24 hours were in some way tied to music. This was particularly interesting in that it came at the end of a very academically intense period: the year leading up to this recording was my first in a PhD programme in philosophy, one during which I'd engaged more seriously with philosophical topics than ever before. As a result, a lot of what I've learned in my non-musical pursuits came to bear very directly on my musical ones. It was a period of bringing a lot of new things together, of putting many very recent learnings into a musical perspective.
Another unusual aspect of the recording trip was that, by virtue of its length, I got some experience of the way of life in Armenia. Although it of course was nothing near an adequate approximation of what it's like to be someone from there, it also wasn't the usual superficial in-and-out exposure a musician usually expects to get in a foreign place. I got a reasonable taste of what this world was like. In many ways, it was the best preparation I could have had for recording these two concertos: through exposure to the sights and memories of this ex-Soviet country, the Soviet Union came to figure quite prominently in my consciousness. The vague and clouded entity of my childhood awareness assumed a definite shape and character in my present one. And this awareness I tried to bring to my understanding of the pieces I was about to record. For better or worse, it strongly influenced some of my interpretative choices.
My objectives in the two works on this recording are very different. The approach that I took with the Khatchaturian was understatement. Its orchestration is heavy and forceful. I think that Khatchaturian was inspired in this piece by what we might see as the "heroic" aspects of Soviet culture (in addition to obvious Armenian folk influences). I chose to understate because the piece has plenty of power built into it, and this power, interestingly, comes out particularly well when things are kept fluid and moving - too much relief-work would only disrupt the natural force of the work. In the Shostakovich, however, I went for the reverse strategy, a sort of overstatement. If the Khatchaturian works better when its texture is kept uniform, I think that the Shostakovich works best if one overplays the complexity of what's going on. In a way, it's a rather paradoxical piece: there is a lot of potential for drawing out an unbelievable wealth of colours and moods, but, at the same time, the danger of seeming monotonous is great. Unlike the Khatchaturian, the piece itself does very little of the work for you, especially in the slow movements and the cadenza. By the same token, however, there is an astonishing amount of interpretative creativity that it allows. Every time I play this piece, I feel like I've used up a month's worth of emotional energy. I'm hardly fond of aesthetic expressivism, but, if I were, this piece would be one I'd cite as evidence for its truth. I've never known such sorrow as I feel when playing the first and third movements, nor such joy as when playing the second and fourth, nor such serenity as when playing the cadenza. I feel very privileged for having had the chance to explore this work in the intense manner afforded by a recording setting.
There are many people I would like to thank for the actualization of this project. Among them, the members of the Armenian Philharmonic Orchestra for their inspired and dedicated work throughout a rather grueling recording schedule. Maestro Eduard Topchjan for a fruitful, edifying, enjoyable, and generally memorable collaboration. Earl Rosen and Dinah Hoyle for their dedicated efforts and their belief in my often fanciful flights of thinking. And, finally, Takeshi Watanabe for his, as always, remarkable engineering and mastering work, for doing the actual physical recording. I'm delighted to have had such a supportive crew in the realization of an idea that was and still is very special to me."

Catherine Manoukian , 2006
Excerpts from the liner notes of
Khachaturian and Shostakovich: Violin Concertos
MAR 339
Back to Catherine's Discography