Terry
McKenna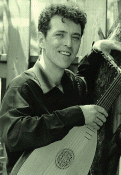 Terry McKenna is one of Canada's foremost musicians specializing in period plucked stringed instruments. From his earliest performances in Yorkville's coffeehouses, opening for such bands as Lighthouse, to his more recent tenure with the Toronto Consort, Ensemble Polaris and Puirt a Baroque, McKenna has always enjoyed looking for intuitive approaches to traditional music. He has played with Tafelmusik, Opera Atelier and the Canadian Opera Company, and can be heard on several soundtracks, including Atom Egoyan's Academy Award-nominated The Sweet Hereafter. McKenna is also a regular member of the Stratford Festival, appearing in stage productions of everything from Shakespeare to Gilbert and Sullivan.
Terry composed an original score for Foolscap Theatre's 1998 dramatic adaptation of Tennyson, The Idylls of the Queen and has written original music for Stratford-based Playmakers! Theatre Company.
Throw the House Out of the Windowe is McKenna's fourth disc with Marquis Classics. Previous Marquis collaborations include his two releases with Puirt a Baroque, and a disc of music by Louis Applebaum. Over the last 20 years, Marquis Classics has built a reputation for its fine recordings of classical, Celtic and jazz music.