Phil Nimmons and
James Campbell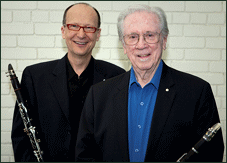 Phil Nimmons (Right) with Jim Campbell
Phil Nimmons
Phil Nimmons (b. 1923 in Kamloops, BC) started writing music not long after his voice broke. Essentially self-taught as a clarinetist, he joined the Ray Norris Quintet while doing pre-med studies at the University of British Columbia, in the late 1930s and early 40s. He played clarinet, composed and arranged for weekly Serenade in Rhythm radio broadcasts. At this time, Nimmons also played clarinet with the CBC Vancouver Orchestra under John Avison, soaking up new scores of contemporary music as easily as the classics of swing and the newly emerging bebop. "The only clarinet lessons I'd had up to then were from a tug boat captain who owed my dad money for dentistry work," Nimmons told his Parry Sound fans. Then, with thoughts of a career in medicine long since abandoned, Nimmons won a scholarship to Juilliard in 1945. He played in every group he could, from symphony orchestras to concert bands and woodwind quintets, lived on $100 a month and heard many of the musical greats in Carnegie Hall and on 52nd Street. "For me, jazz and the classics co-existed at this time," Nimmons recalls. "There was no divide."
Composition lessons in Toronto, then countless commissioned scores of incidental music for CBC shows equipped Nimmons the composer with the technique to craft a musical motif and allow a new piece to unfold from its latent ideas. "I'd rather find a musical seed that has a lot of potential than write music that's just descriptive," he adds.

James Campbell
James Campbell has followed his muse to five television specials, more than 40 recordings, over 30 works commissioned, a Juno Award for Stolen Gems, a Roy Thomson Hall Award, Canada's Artist of the Year and the Order of Canada. Most recently, Campbell received The Queen's Golden Jubilee Medal. This was given on the occasion of the fiftieth Anniversary of the accession of Her Majesty the Queen to the Throne.
Called by the Toronto Star "Canada's pre-eminent clarinetist and wind soloist", James Campbell has performed in most of the world's major concert halls and with over 50 orchestras including the London Symphony, Orchestre Symphonique de Montréal and the Russian Philharmonic. During the 2003-2004 season he premiered Dreaming of the Masters, a jazz concerto by Allan Gilliland, commissioned by the Edmonton Symphony and written for James Campbell, with the Edmonton Symphony Orchestra and the Boston Pops. Last fall, Gilliland arranged Leonard Bernstein's West Side Story for Campbell and premiered it with the Kitchener Waterloo Symphony Orchestra.
Campbell has collaborated and performed with many of the world's great musicians including the late Glenn Gould and Aaron Copland; as well as chamber music tours with over 30 string quartets including the legendary Amadeus String Quartet, the Guarneri, Vermeer, New Zealand, St Lawrence, Fine Arts, and Allegri String Quartets.

Since 1989, James Campbell has made Bloomington, Indiana his base during the academic year as Professor of Music at the prestigious Music School of Indiana University.