Patricia
O'Callaghan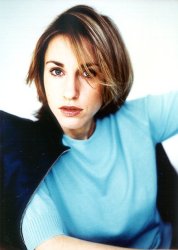 For more information, visit Patricia's web site.
"Yes, it's a provocative title," says Patricia O'Callaghan of her new recording, Naked Beauty. "But the song refers to the naked beauty of the soul." The same kind of beauty found in O'Callaghan's singing - honest; straight from the heart.
Naked Beauty will leave you "breathless and inspired," to quote lyrics from the title track. The fourth recording by O'Callaghan is her boldest to date, a gem-filled journey through idiosyncratic pop and cabaret songs by composers including Randy Newman, Neil Young, Leonard Cohen and Kurt Weill. O'Callaghan, called "the most promising cabaret performer of her generation" by Billboard Magazine, brings the sensual theatricality of her live performances home with this new release.
With much of the recording done "live off the floor," O'Callaghan sings with what could aptly be called naked abandon, her voice matured by experience, through sharing her music with audiences in every sort of venue from smoky bars to opulent concert halls. She's no stranger to the camera -- O'Callaghan recently starred in the CBC Television special, "Youkali Hotel," in addition to her much lauded role in 1999 as "The Singer," in Ken Finkleman's acclaimed series, "Foolish Heart." Through it all O'Callaghan says, "My musical tastes and boundaries have continued to expand and change." She adds, "Naked Beauty is distinctly less classical than some of my earlier work," making it a natural evolution from 2000's Real Emotional Girl.
Naked Beauty marks a significant new collaboration for O'Callaghan, with Barenaked Ladies lead singer Steven Page. It was a natural fit. "Barenaked Ladies are truly a unique voice in the world of pop music, a rarity," she says. The same can accurately be said of O'Callaghan, consequently it's no surprise that what was planned as one Page/O'Callaghan duet grew into a fuller collaboration. "Steven's responsible for many of the artistic choices made on this CD and was a trusted ear," says O'Callaghan.
Her own artistic choices are revealed in a bounty of marvelous songs, from Newman's "Dayton Ohio" to Weill's "Lost in the Stars." The latter has particular resonance for the singer. "Even though I've come to a place of happiness and fulfillment in many areas of my life, sometimes I can feel completely 'lost in the stars.' I picture Kurt Weill sitting in his little room writing the song, looking out the window and sending his star out into the night, to try and connect with all the other lost stars out there."
Of the two traditional songs on the recording, "Yo m'enamori d'un Aire" and "Noches, Noches," sung in the medieval language of Ladino, O'Callaghan says, "I feel like something magic happens when I sing these Ladino songs - and people who've heard me sing them often tell me they have a similar experience."
O'Callaghan is surrounded by a cast of Canadian greats on Naked Beauty, including Kurt Swinghammer, Kevin Hearn (BNL), James Robertson, John Gzowski, George Koller and Tyler Yarema among others. The diversity of instrumental talent is an indication of O'Callaghan's determination to refuse musical limitations. She brings to each kind of song whatever it asks of her, through a searching honesty that ultimately reveals the song's own "naked beauty."
JANUARY 2004

Colour photo: Götz Schwan