Timofeyev
Ensemble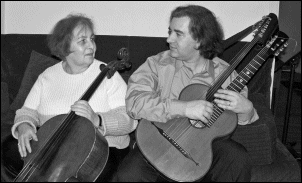 Natalia Timofeyeva and Oleg Timofeyev
Although the mother-and-son core duo of The Timofeyev Ensemble has been performing together for 30 years, the concept of the group is new and shall always involve Natalia Timofeyeva (cello), Oleg Timofeyev (Russian seven-string guitar), and any number of guest artists.
Born to a Russian-Jewish family with a long musical tradition, Ms. Timofeyeva graduated from Moscow Conservatory in 1966, where her cello instructors were Profs. Sergei Shirinsky and Mstislav Rostropovich. She provided the initial musical guidance to her son Oleg Timofeyev, who later chose a course towards early music performance on original instruments. In 1985-89 the duo performed Renaissance and Baroque music on viola da gamba and lute, with frequent participations in Soviet TV and radio programs, as well as music festivals in Russia and Estonia. His interest in early music brought Oleg to the US, where he earned an MA from USC (1993) and Ph. D. from Duke (1999). Timofeyev's recording debut occurred in 1999 with a lute album (The Wandering Lutenist, Centaur 2409) and the groundbreaking The Golden Age of the Russian Guitar (DOR 93170). Timofeyev's most recent solo recording--Acrobatic Dance: Music from the Gulag by Matvei Pavlov-Azancheev, 1888-1963--came out on Hänssler Classics and was labeled "outstanding" by the prestigious journal Fono Forum. He teaches guitar at Grinnell College and seminars on Russian culture at the University of Iowa. The duo is now working on Timofeyev Ensemble's next project, "Madrid on the Neva: Spanish Music by Russian Composers, 1800 to the present" for cello and guitar.
Guest Artists:
A native of San Diego, Robert Paredes (1948 -2005) was one of the pioneers of the US klezmer revival back in the 1970s, as a part of San Diego's famous Big Jewish Band. Later, he was active as a composer, visual artist, writer, and, of course, as an extraordinary clarinetist. In addition to the clarinet, he was equally fluent on the flute and the saxophone and performed in classical, jazz and klezmer repertoires. He appeared as an invited soloist at numerous festivals in Australia (1986), Illinois (1988) and Brazil (1992), and others.
A native Texan, born and raised in Longview, Dan Moore earned the master's of music education from Wichita State University, where he studied with J.C. Combs; and his doctoral degree from The University of Kentucky, where he completed his doctoral fellowship under James B. Campbell. Moore's compositions and arrangements are published by Innovative Percussion, Creative Music, and Cricket City Music. With various ensembles, he has performed throughout the United States, and in Japan and China. He is Percussion Area Head and Associate Professor of music at The University of Iowa.
Matthew Burrier (b. 1968) began piano studies at age eight and has since studied all of the keyboard-related instruments, including accordion and melodica.
In 1991, he took classes in composition and electronic music from Dr. Robert Paredes, with whom he also performed klezmer and classical music as well as jazz until 2005.
Mr. Burrier has been active as an accompanist, soloist, conductor, and composer/arranger since 1984. He has worked with many soloists and ensembles in a wide variety of styles and genres.