Special Offers

Watch this page for special offers on some of the best-selling recordings
from our catalogue.

until December 30, 2022: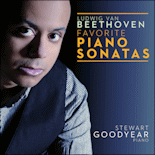 Stewart Goodyear has selected his favorite Beethoven piano sonatas for this 2-CD collection, a compilation of music from his 10—CD box set. It includes: Pathétique, Moonlight, Appassionata, Les adieux, Tempest, and Hammerklavier.

This 2-CD set is on sale on our web site for only $9.98,
instead of the regular price price of $19.98.
Just click on the CD photo for more information, or to order.

Read ordering CDs for more information.