Coenraad Blomendal
Erica Goodman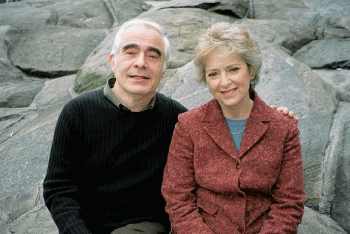 Cellist Coenraad Bloemendal with harpist Erica Goodman
Coenraad Bloemendal
Coenraad Bloemendal was born in Amsterdam and studied at the Amsterdam Conservatory with Hollands leading cellist Carel van Leeuwen Boomkamp. After graduating he came to the United States to complete his studies with the renowned cellist Janos Starker at Indiana University.
In 1971 mr.Bloemendal moved to Canada,joining the Camerata Canada chamber ensemble. He quickly established himself as one of the country's outstanding cellists. As a soloist he has played the Dvorak,Schumann,Haydn and Beethoven Triple concerti.

In May 2006 Mr. Bloemendal premiered a long forgotten romantic virtuoso concerto by David Popper.
With pianist Valerie Tryon ( his duo-partner for 25 years) Coenraad Bloemendal has performed most of the repertoire for cello and piano in concert an on CBC radio. His performances with Glenn Gould on CBC Television's " Music in our Time" led to other collaborations with the pianist.

This is Coenraad Bloemendal's first recording for Marquis Classics.
Erica Goodman
A native of Toronto, Erica Goodman is acclaimed as one of the world's outstanding solo harpists. She received her training at the Royal Conservatory of Music (Toronto), the National Music Camp (Interlochen, Michigan) and the Curtis Institute of Music (Philadelphia). Already a concert performer in her teens, Erica played under the baton of Igor Stravinsky when he recorded in Toronto. She was a concerto soloist with the famed Philadelphia Orchestra. She also was a member of the newly formed National Arts Centre Orchestra under Mario Bernardi and was featured as soloist when the orchestra made its New York debut. Erica is currently a member of Toronto's Esprit Orchestra which specializes in contemporary music and she performed Alex Pauk's Harp Concerto when the orchestra made its inaugural European tour in 1999.
Erica's love of chamber music is highlighted by her long association with colleagues and groups such as flutist Robert Aitken, oboist Lawrence Cherney and Trio Lyra. With Swedish horn player Sören Hermansson, she has revisited old and commissioned new works for the unusual combination of French horn and harp. Erica is a charter member of Toronto's New Music Concerts Ensemble. A "regular" on the summer festival circuit, Erica appears frequently at The Scotia Festival, the Festival of the Sound, the Elora Festival and the Ottawa Chamber Music Festival.
Following a concert at the North American New Music Festival in Buffalo NY, music critic Richard Chon extolled: "…….a stunningly virtuosic harpist whose very presence on the scene is an incentive for the creation of new works." Canadian composers thus inspired include Alexina Louie, Oskar Morawetz, Milton Barnes, Marjan Mozetich, Harry Freedman and Lothar Klein.
This is Coenraad Bloemendal's first recording for Marquis Classics. Erica Goodman also performs on the Marquis CDs: Jeux à Deux, Celtic Memories and Mosaics.