Orion Master Recordings -
Marquis Budget Recordings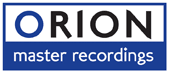 Orion Master Recordings was one of North America's pioneering independent classical labels, renowned for the audiophile quality of its recordings. These efforts won
the label critical acclaim and music fans around the world. Marquis is pleased
to make these superb recordings available once again.


The Orion Master Recordings at a glance:
Learn more, and listen to sound samples:

The Art of Laurindo Almeida
J.S. Bach
Vincenzo Galilei / Robert de Visée

MAR 3101
Listen / More about this CD>

Ludwig van Beethoven:
Three Duos for Violin and Cello
Cello Sonata, Variations from 'The Magic Flute'

MAR 3102
Listen / More about this CD>

Luigi Boccherini:
Six Sonatas, Op. 5 for
Flute & Harpsichord

MAR 3103
Listen / More about this CD>

Franz Liszt:
The Complete Works for Violin and Piano
** GRAND PRIX INTERNATIONAL DU DISQUE LISZT 1977 **

MAR 3104
Listen / More about this CD

Samuel Coleridge-Taylor:
24 Negro Melodies, Op. 59
Music for Piano

MAR 3105
Listen / More about this CD>

Franz Anton Rosetti and
Jan Ladislav Dussek:
Harp Sonatas

MAR 3106
Listen / More about this CD>

Vivaldi: Beatus Vir
and music by Monteverdi, Victoria, Gibbons
and Haydn

MAR 3107
Listen / More about this CD>

Wolfgang Amadeus Mozart:
Piano Quintet K. 452
Quintet K. 407 for horn & strings; Oboe Quartet K. 370

Piotr Tchaikovsky: Trio in A minor, Op. 50
D'Indy: Violin Sonata in C Major, Op.59

MAR 3109
Listen / More about this CD>

J.S. Bach / Locatelli / Corelli / Nardini
Sonatas for Violin and Harpsichord

MAR 3110
Listen / More about this CD>

The Art of Steven Staryk
Steven Staryk, violin
The London Festival Orchestra

MAR 3111
Listen / More about this CD>

Aaron Copland:
Piano Sonata and Other Works
Robert Silverman, piano

MAR 3112
Listen / More about this CD>

Baroque Organ Masters
Kenneth Gilbert, organ
Casavant Organs of Saint Jean & Joliette, Quebec

MAR 3113
Listen / More about this CD>

Marin and Haydn:
Suites and Sonatas
Peggie Sampson, Viola da Gamba

MAR 3114
Listen / More about this CD>

Sergei Prokofiev and
David Ward-Steinman:
Music for Cello and Piano

MAR 3115
Listen / More about this CD>

Mozart and Asioli:
Keyboard Sonatas
Kathryn Deguire, piano

MAR 3116
Listen / More about this CD>

The Virtuoso Cello
Works by Chopin, Fauré, Servais, Saint-Saëns
Joel Krosnick, cello

MAR 3117
Listen / More about this CD>

Strauss, Eisler and Casadesus:
Works for Piano
Carol Colburn, piano

Kogan plays Bach and Prokofiev
Leonid Kogan, Violin
Ephraim Koenigh, Piano

MAR 3119
Listen / More about this CD>

Granados, Klein and Martinu:
Chamber Music
The Gotham Trio

MAR 3120
Listen / More about this CD>

Malagueña
Piano Music from Cuba and the Philippines
Adolovni Acosta, piano

MAR 3121
Listen / More about this CD>

Études: Piano Music of
Liszt and Rachmaninoff
Robert Silverman, piano

MAR 3122
Listen / More about this CD>

Brahms:
Cello Sonatas
Gabor Rejto, cello / Adolph Baller, piano

MAR 3123
Listen / More about this CD>

Satie for Two
Peter Kraus, guitar
Mark Bird, guitar

MAR 3124
Listen / More about this CD>

Rampal and Friends
Jean-Pierre Rampal, flute
Mario Duschenes, flute / Kenneth Gilbert, harpsichord

MAR 3125
Listen / More about this CD>